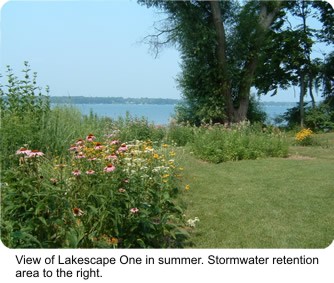 The following are the major features of Kellogg Biological Station (KBS) Shoreline Management Demonstration Area Lakescape One.
Stormwater retention
The area encompassed by Lakescape One was a collection area for stormwater runoff from much of the KBS Education Center campus. This is a common phenomenon in lakeshore communities where development patterns have funneled storm water to and through certain properties. Lakescape One demonstrates a low-tech way to address this problem. As part of the design, a small depression was created to retain stormwater. This area was then planted to a variety of wetland plants that would tolerate wetter conditions during spring and fall rains. A sodded berm between the depression and the lake serves as a walkway for viewing the lake and the plantings.
Minimal disturbance
Nearly half of Lakescape One was left unaltered and undisturbed. Existing plant communities, although not native, provide water quality and wildlife benefits. Soil disturbance and alteration of any shoreline area create opportunities for soil erosion problems. In this case, alterations would have added little benefit. Non-natives include a small Norway maple grove that provides screening, shade and erosion control. It also intercepts precipitation which reduces runoff and erosion in sensitive shoreline areas. Windows, or viewing alleys, have been cut through the canopy to allow for views of the lake. An area of myrtle, sometimes called periwinkle, provides groundcover and keeps soil in place. A naturalized bulb planting provides color in early spring.
Erosion control
The shoreline of Lakescape One is held stable by large rocks overgrown by plants and trees. These rocks were placed years ago before W.K. Kellogg donated the Eagle Heights property to Michigan State University. The rocks continue to provide effective erosion control today.
Habitat enhancement
Native wildflowers and grasses, donated by the Kalamazoo Nature Center, provide abundant food and cover for butterflies, birds and other forms of wildlife. An old willow tree is also located on the site. When a large branch fell into the lake, parallel to the shoreline and away from any potential access area, the decision was made to leave it there. The branch provides cover and shade in this relatively barren shoreline area and is used by fish, turtles and waterfowl. Unfortunately, the remaining tree had to be removed in 2008 due to safety concerns.
Reduced lawn maintenance
The amount of area managed as turf grass is limited in Lakescape One and reduces the need for intensive watering, fertilizing and pest control in this sensitive shoreline area.
Septic systems
In shoreline areas with poorly maintained septic systems and high water tables, sewage effluent released to groundwater can carry phosphorus and nitrogen to the lake where it can contribute to nuisance aquatic plant growth. Lakescape One demonstrates the use of long-rooted native plants that can help intercept septic system nutrients before they reach the lake.
Lakescape One is sponsored by the Kalamazoo Nature Center Community Wildlife Program.