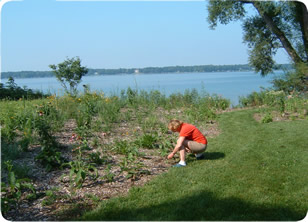 Many shoreline property owners restore and/or manage their own yards and shoreline areas. However, many hire landscapers and/or lawn care professionals. The choice is yours. If your shoreline is actively eroding due to heavy wave action and ice push, your shoreline restoration project may call for soil bioengineering to create a natural structure that can withstand these conditions. Or you may choose rock riprap with interplantings to provide naturalized protection. One goal of alternative shoreline management is to avoid the installation of vertical seawall if you don't already have one. Another is creating landscapes that are low maintenance. This means less mowing, watering, fertilizing and use of chemicals in sensitive shoreline areas whether you manage it yourself or hire a professional.
Important points to remember when restoring and/or managing your shoreline:
As the transitional area between land and water, the shoreline system is ecologically sensitive.
Become informed about invasive plants so that you can be aware of their presence and know how to manage them effectively.
Kindly share your knowledge with your neighbors. Everyone can be an educator!
For more information on managing your own shoreline, please visit our Property Owners page.
Next: Shoreline Erosion