Demonstration Areas Overview
The loss of native shoreline vegetation around Michigan's inland lakes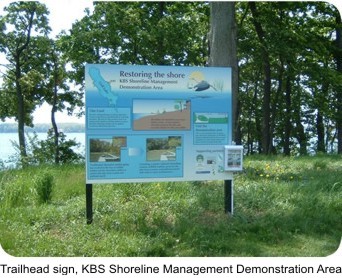 has implications not only for water quality but for the ecological balance of lakes as well. Through the Land & Water Program's work with lake property owners it became apparent that many are interested in alternative ways to manage their shoreline areas but have problems visualizing the end product.  They express concerns that environmental protection needs to be balanced with aesthetics and property values.  Soil bioengineered shoreline erosion control techniques and low-input lakeshore landscape designs (or lakescapes) can address these concerns while helping lake property owners find that balance.
In response to this need, the MSU Extension Land & Water Program at the Kellogg Biological Station (KBS), in cooperation with a variety of partners created the KBS Shoreline Management Demonstration Area.  Beginning in 2001, four individual lakescapes were designed and installed along 400 feet of beautiful Gull Lake (Kalamazoo County) shoreline. They incorporate varying degrees of low maintenance, low input and native plant species, along with several soil bioengineered erosion control structures.  In addition, teaching points about water quality protection and wildlife habitat are embedded within each lakescape.  As a result, the KBS Shoreline Management Demonstration Area educates and engages citizens while helping KBS meet its commitment to better manage its Gull Lake shoreline area.  The project has been installed in three phases:
Shoreline Stabilization — Eroding KBS shoreline, due to wave action and ice push, provided opportunities to demonstrate a variety of shoreline erosion control techniques including rock riprap and a variety of soft-armored soil bioengineered treatments. Soil bioengineering, or soft engineering, involves the use of woody shrub material arranged in structures which are designed to utilize the root mass of these plants to stabilize the shoreline or stream bank.  Shrubs used in the KBS shoreline structures include redosier dogwood, silky dogwood, gray dogwood, common elderberry and purpleosier (Streamco) willow, a cultivar of willow specially developed for soil bioengineering. All shoreline stabilization measures were designed by the Natural Resources Conservation Service (NRCS).
Lakescaping — The installation of four contiguous lakescapes allow shoreline property owners and practitioners the opportunity to experience and compare alternatives to traditional 'turf to the edge' landscaping.  Each lakescape design demonstrates varying degrees of formality and the use of native plants.
Interpretive Signage — A trailhead sign orients visitors to the Demonstration Area. Smaller signs provide detail on soil bioengineered structures.
This multifaceted demonstration area now serves as both an active and passive educational resource for a variety of agencies and organizations around Southwest Michigan, for MSU students and instructors as well as the casual KBS visitor taking a walk along Gull Lake.  The features incorporated into each lakescape are detailed in the following pages.  When  leading a tour, please begin at the trail-head sign located at the north end of the site.  A full color, self-guided brochure highlighting the features of each lakescape may be found here.
Important points to consider when visiting:
Weed Management — This entire area was deforested in 1998 and became overgrown with a variety of undesirable and persistent invasive plants. This presents an ongoing weed management challenge that the homeowner may not encounter when converting turf lawn to lakescape.  This is especially true when a lakescape is installed in phases, rather than disturbing the entire shoreline area at once.   Phased-in lakescaping is highly recommended to avoid soil erosion and noxious weed problems.
Access areas — Due to safety and liability concerns about the public use of KBS's shoreline area, there are no access areas (beaches, docks, landings, etc.) at any of the four lakescapes.  Use your imagination and creativity in thinking about how an alternative landscape could improve your property's current lake access arrangement.  Maybe your access area is eroding, or it doesn't really need to be the full width of your lake lot and would benefit from plantings that would reduce erosion, runoff and maintenance while enhancing wildlife habitat.
Permits — Like the KBS project, most shoreline restoration projects require one or more permits. Always check with the appropriate agencies/offices before starting your project.  Allow at least 90 days to get your permits in place.
The Restoring the Shore trailhead sign was sponsored by the Gull Lake Quality Organization.
For a downloadable brochure on the KBS Demonstration Area, click here. (pdf)